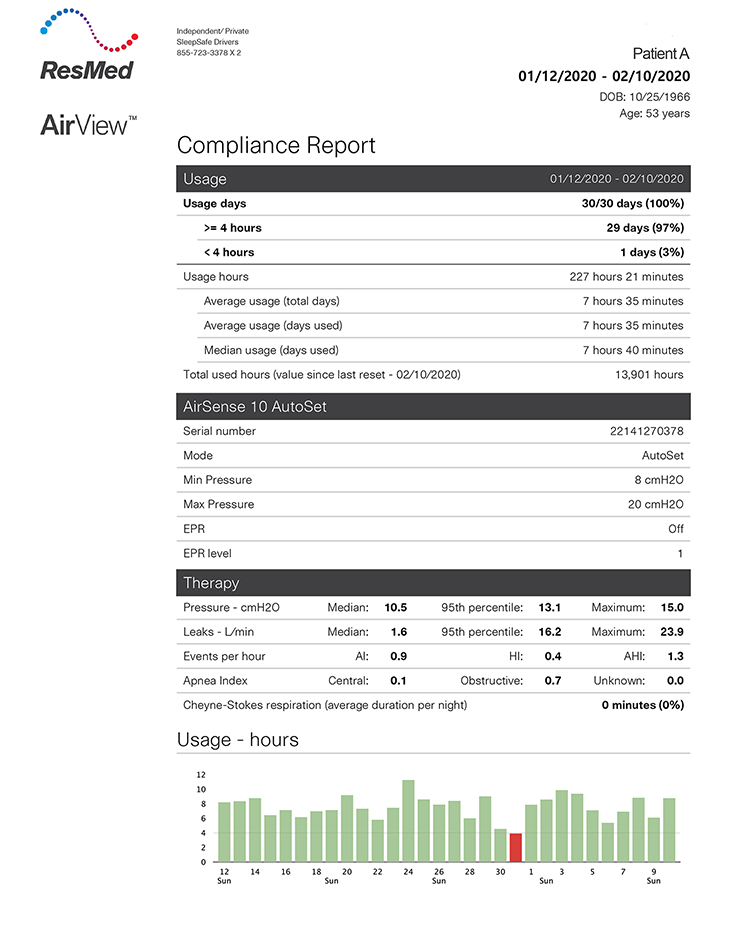 Arm yourself with information prior to your DOT exam…
FMCSA's physical qualifications standards prohibit individuals from receiving a medical examiner's certificate to operate commercial motor vehicles in interstate commerce if they have an "established medical history or clinical diagnosis of a respiratory dysfunction likely to interfere with his or her ability to control and drive a commercial motor vehicle safely." (49 CFR 391.41(b)(5)). OSA is considered a respiratory dysfunction when there is a determination that it is likely to interfere with the driver's ability to operate safely because of the severity of the case.
If found to have risk factors, the certified medical examiners will send drivers for testing and then require compliance reporting of 4 hours or for 70% of the time before issuing a medical card or annual recertification. The CMEs should be looking at 365 reporting, not just the last 7 or 30 days as some folks may not be completely upfront with their therapy compliance. Most PAPs have wireless devices that can monitor PAP compliance daily as opposed to the older version of SD card downloading. The remote monitoring also can help with the assessment of clinical parameters that can influence efficacy such as mask leaks, AHI – efficacy of therapy and other clinical conditions that can be adjusted remotely and or addressed.
Litigation can be avoided now when trucking accidents occur and the PAP compliance can be verified. Many truck cabs now have forward-facing cameras that may be finding sleepy or fatigued drivers experiencing "micro-sleeps" (temporary episode of sleep lasting up to 30 seconds and keeps one from responding to arbitrary sensory input and loss of consciousness) or drowsy driving. This may give Fleet Safety Managers opportunities to demand drivers go for sleep disorder testing rather than dismissing a driver during this driver shortage.
Most fleets want to know which of their drivers are on PAP devices and if they are compliant or adhering to their prescribed therapy. If you do not know, this is a big set up for litigation after accidents. Many drivers have already been tested and are on therapy as they arrive for new employment. Disclosure is still tricky but should be addressed without fear.

Mary Convey
Vice President, Corporate Health & Safety Solutions
Mary brings over 15 years of sleep and respiratory experience from the manufacturing side. She has extensive knowledge in sleep diagnostics and therapy from her experience in sales with both Embla (now Natus) and Puritan Bennett. With Embla, Mary served as Distributor Manager, working primarily with Home Sleep Testing companies in the US and Australia. Mary has developed national relationships with Sleep Labs and DME partners who now share in the SleepSafe Drivers model.